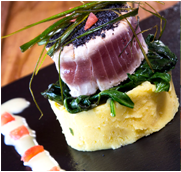 Welcome to Antoine's Restaurant. We're located at 5020 Fruitville Road in Sarasota. Our new location features an elegant continental menu by Chef Karl Deneubourg in a cozy and sophisticated environment. We're open for dinner Monday through Saturday starting at 4 p.m.
**We are now open every Monday for all you can eat mussels ($21).
Our master chef, Karl Deneubourg has crafted a concise menu focusing on flawlessly executed, modern European cuisine. Handmade pastas are heavily featured as well as sophisticated seafood specials. Fall hours are in effect currently and our guests are invited to enjoy 20% off their entire check, nothing excluded, until 5:30 p.m. nightly.
_____________________________________________
5020 Fruitville road, Sarasota, Florida 34232